Share
Close
Self Rescue Skills
$170 per class
A credit card is required to enroll but isn't charged until the time of service.
We recommend a minimum of two days for self rescue to allow time to learn the skills and provide practice and supervision. Self rescue skills are not a play-by-play of what to do when a situation arises. Rather, they are skills you should know to first prevent situations from arising - and second, if something unexpectedly does occur, having proficient knowledge of the tools to correct it based on your resources and situation. We believe it is better to know and understand the concepts instead of memorizing a specific set of steps. With that in mind, we base our self rescue course on teaching you important tools and providing scenarios for you to work through. The tools we teach in this course (in addition to a general review of the basic knots and belaying skills) are as follows:

• Belaying methods - off anchor, waist, etc.
• Knots & hitches - clove, munter, mule, etc.
• Friction hitches - prusik, kleimheist, autoblock, etc.
• Hauling systems - to get your partner up to you (2:1, 3:1, 5:1, etc.)
• Lowering methods - to get your partner down to the ground
• Knot pass - how to lower past a knot
• Rappelling methods - for yourself, with an inured partner, etc.
• Ascending
• and provide you with as much time as possible on the rock practicing the skills and in scenarios.
In addition to self rescue skills, we strongly recommend you take some level of a Wilderness Medical Course to help you be more prepared.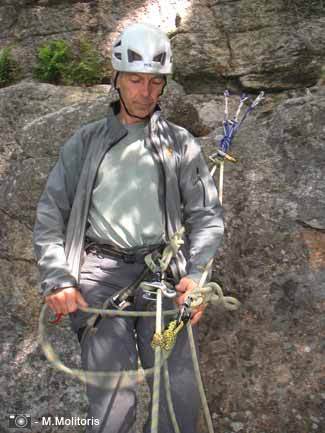 Self rescue skills involve a multiple of tools (knots & hitches) and the ability to apply the right tool for the right job. In this photo, the belayer is tying off the belay and transferring the load to the anchor; Shawangunks, NY

Self rescue instruction is available daily in the Shawangunks and Adirondacks. We supply all the necessary technical climbing equipment and day passes where required - please check out the Gear List specific for the day for what is actually supplied and what you'll be required to bring.